Local Colour is a Foreign Invention
2020 - ongoing
Pigmented inks print on Hahnemühle paper, 308 gr.,
dimensions variable

+
Archival ink pen on paper drawings framed in aluminium,
30 x 21,5 cm.
---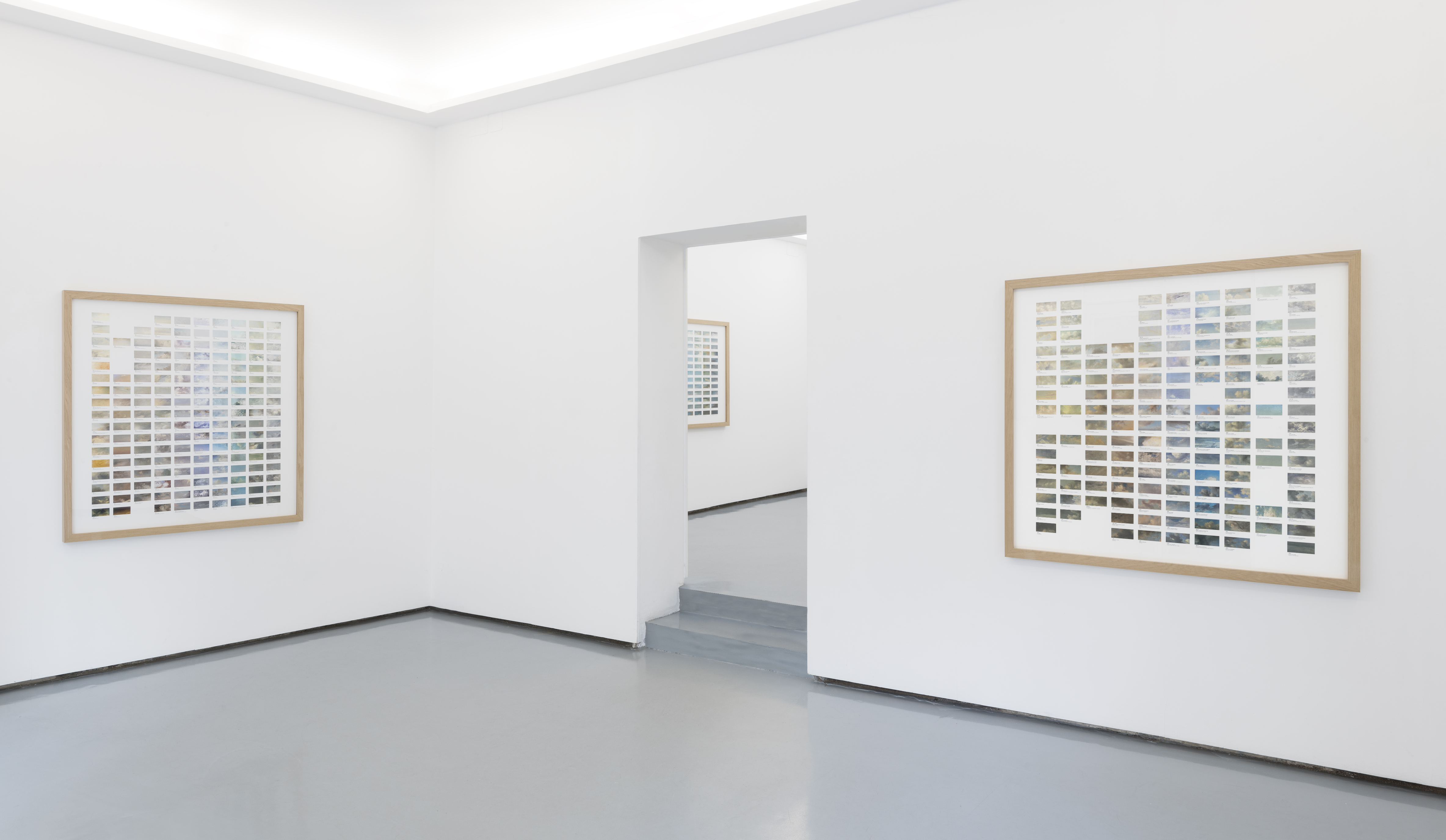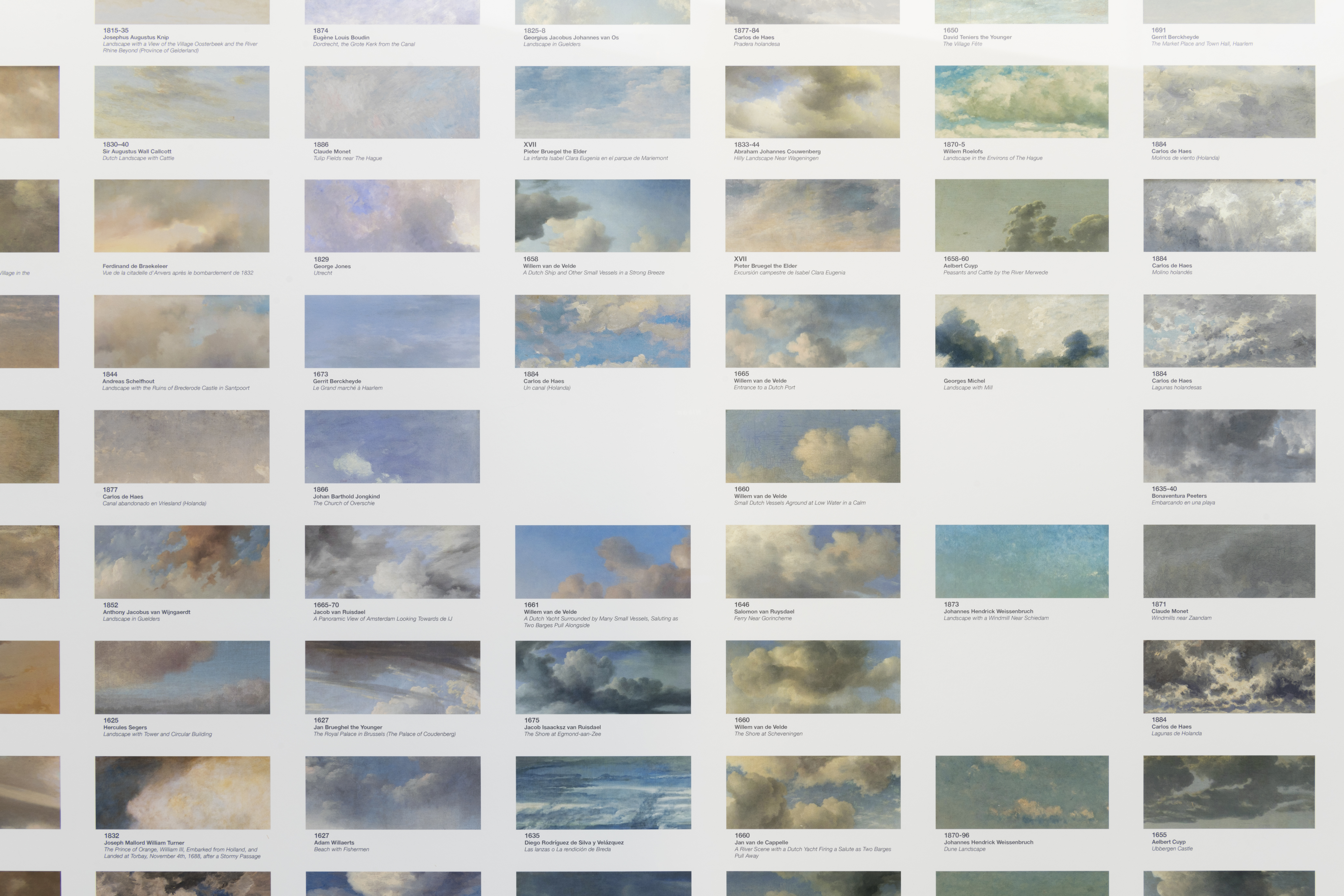 Painting and geography. In this series, I depart from the well-known phrase of the writer Jorge Luis Borges Local colour is a foreign invention to question whether it is possible to find out the local colour of certain specific geographical areas. For this, I have looked at how artists from different eras have depicted the sky in painting, from XVIIth century to the present. These fragments of painted skies, collected from museums´ websites, are treated as colour samples that are, then, organised chromatically following the Pantone scale in the form of a grid. The information of the name of the author of the painting, the date of its execution and the title are also indicated, generating jumps in time that connect the experience of artists from different origins and generations in front of a landscape.

In the exhibition in which these pieces were presented for the first time, Raw Sienna Warm Shade, Delft Cobalt Blue, Chinese Red Vermilion in The Goma gallery, these pieces were accompanied by three hand-written lists of pigment names, framed in aluminum in red, yellow, blue and green, making a reference to geographical areas or names of artists that made them famous.



---
CREDITS:
Local Colour is a Foreign Invention (British Islands) (2020), 134 x 149 cm.
Local Colour is a Foreign Invention (British Islands) (2020), 134 x 149 cm. (Detail)
Installation views of Raw Sienna Warm Shade, Delft Cobalt Blue, Chinese Red Vermilion (solo exhibition), The Goma (Madrid, Spain, 2020)
Local Colour is a Foreign Invention (The Netherlands/ Belgium) (2020), 126,5 x 149 cm.
Local Colour is a Foreign Invention (The Netherlands/ Belgium) (2020), 126,5 x 149 cm. (Detail)
Untitled (2020), 30 x 21,5 cm.
Local Colour is a Foreign Invention (Madrid) (2020), 107 x 137 cm.
Local Colour is a Foreign Invention (Madrid) (2020), 107 x 137 cm. (Detail)
Untitled (2020), 30 x 21,5 cm.
Local Colour is a Foreign Invention (Venice) (2020), 87 x 125 cm.
Local Colour is a Foreign Invention (Venice) (2020), 87 x 125 cm. (Detail)
Untitled (2020), 30 x 21,5 cm.
Local Colour is a Foreign Invention (Paris) (2020), 127,5 x 124,5 cm.
Local Colour is a Foreign Invention (Paris) (2020), 127,5 x 124,5 cm. (Detail)
Images © Roberto Ruiz


---