CURRENT AND FORTHCOMING
---
El origen de las formas
Museo CA2M Centro de Arte Dos de Mayo, Móstoles
Solo exhibition
Curated by Tania Pardo
10 June, 2023 - 7 January, 2024
+info
Boothworks
Museu d´Art Modern de Tarragona, Tarragona
Solo exhibition
Curated by Francesco Giavieri
16 June - 14 October, 2023
+info

Hay vacío, hay memoria

Galería CURRO, Guadalajara
Group exhibition
June - August, 2023
Artists: Cristina Garrido, Daniela Libertad, Francisco Ugarte, Mauricio Alejo y Melanie Mclain.
+info



ARCHIVE
---
Una colección privada


Fundación DIDAC

, Santiago de Compostela
Group exhibition
Curated by David Barro
11 February - 29 April, 2023
Artists: Ignasi Aballí, Helena Almeida, Rosana Antolí, Nobuyoshi Araki, Berta Cáccamo, Sophie Calle, Carmen Calvo, Merlin Carpenter, Jacobo Castellano, Phil Collins, José Pedro Croft, Stan Douglas, Dora García, Alberto García-Alix, Christian García Bello, Cristina Garrido, Nan Goldin, Paul Graham, Ana Jotta, Hilla Kurki, João Louro, Vivian Maier, Robert Mapplethorpe, Vítor Mejuto, Matt Mullican, Lucio Muñoz, Melik Ohanian, Pamen Pereira, Allen Ruppersberg, Julião Sarmento, Soledad Sevilla, Malick Sidibé, Rui Valerio, Eulàlia Valldosera, Lawrence Weiner, Francesca Woodman.
+info
VII Premio Cervezas Alhambra de Arte Emergente
Prize shortlist
Exhibition during

ARCOmadrid 2023


Artists: Pablo Capitán del Río, Cristina Garrido, Irene Grau, Almudena Lobera, Alberto Odériz.
+info
Historia y misterio de una colección
Serrería Belga, Madrid
Group exhibition
Curated by María Ángeles Salvador Durántez
1 December, 2022 - 26 February, 2023
Artists: Benjamín Palencia, Menchu Gal, Isabel Quintanilla, Amalia Avia, Alberto Sánchez, Julio López Hernández, Clara Ganguita, Ouka Leele, Esperanza D' Ors, Marta Sánchez Luengo, Carmen Calvo, María Luisa Sanz, Miluca, Sanz, Eduardo Arroyo, Juan Genovés, Equipo Crónica, Juana Francés, Lucio Muñoz, María Droc, José Guerrero, Martín Chirino, Juan Navarro Baldeweg, Fernando Zóbel, Marta Cárdenas, Alfredo Rodríguez, Esteban Vicente, Julián Gil, Ana Buenaventura, Gerardo Rueda, Andreu Alfaro, Jorge Oteiza, Francisco López Quintanilla, Equipo 57, Miren Doiz, Alberto Corazón, José Luis Carles, Ángel Orcajo, Eva Bensasson, Roland Fischer, Cristina Garrido, Marta de Gonzalo, Publio Pérez Prieto.
+info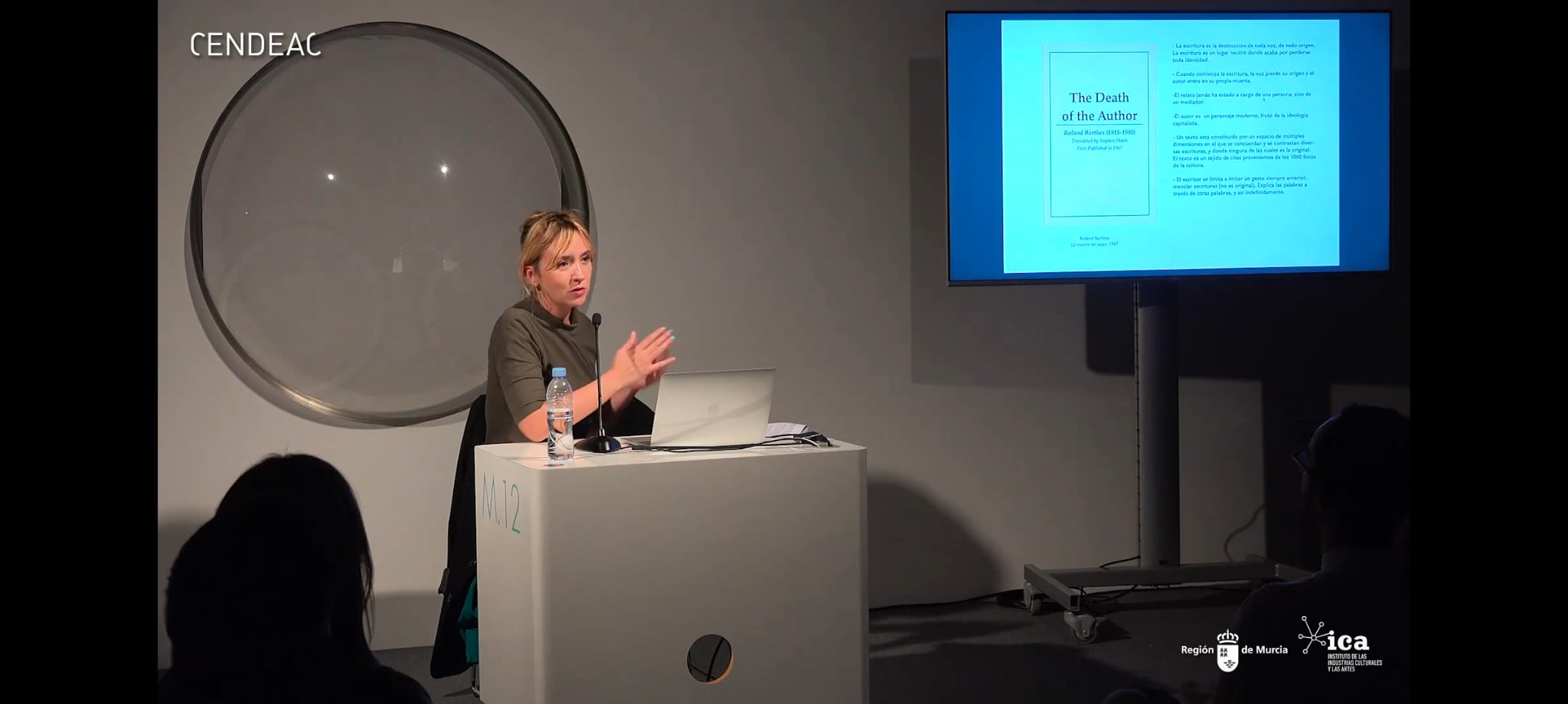 Louise Lawler. ¿Por qué imágenes ahora?
CENDEAC (Centro de Documentación y Estudios Avanzados de Arte Contemporáneo), Murcia Artist talk
November 2022


Link to video on Youtube
Artforum, Critics' picks
Fabiola Iza
Review of the exhibition Paintings at The Goma


+ info
Pinturas
The Goma, Madrid
Apertura - Madrid Gallery Weekend
Solo exhibition
08 September - 05 November, 2022


+info
Full House: One Space, Two Shows, 307 Artists, and 400 Pieces from the Frédéric de Goldschmidt Collection
Catalogue
Publisher: Mercatorfonds
+info
El umbral de lo visible
Llano, Mexico City
Group exhibition
Curated by Galería Riviera
11 June - 09 July, 2022
Artists: Daniel Aguilar Ruvalcaba, Javier Barrios, Daniela Bojórquez Vértiz, Iñaki Bonillas, Carolina Fusiler, Cristina Garrido, Carlos Iván Hernández, Carlos Lara, Eugenia Martínez, Jonathan Monk, Eduardo Ramos, Daniela Rossell & Galen Jackson, PJ Rountree, Julio Fábila, Juan Rulfo, Armando Salas Portugal, José de Sancristobal, Manuel Solano, Fabiola Torres Alzaga, Marek Wolfryd.
+info
Roots and Labels. A Travelling Geography
Iris Project, Venice, Los Angeles
Solo exhibition
19 February - 27 March, 2022
+info
Super Superlike. Impulsos digitales y emotividad virtual
Centro de Cultura Contemporánea Conde Duque, Madrid
Group exhibition
Curated by Marta Ramos-Yzquierdo and Enrique Radigales
30November, 2021 - 17 April, 2022
Artists: David Ferrando Giraut, Françoise Gamma, Cristina Garrido, Marian Garrido, Karlos Gi, Marina González Guerrero, Rubén Grilo, Roc Herms, emilio.jp, Joan Leandre, Almudena Lobera, Solimán López, Fran Meana, Raquel Meyers.
+info
Zona Maco
With Galería CURRO, México City
9 - 13 February, 2022


+info
Negotiating the Art-Documentation-Industrial-Complex
The Photographers Gallery, London (Hosted online)
13 December, 6 pm.
Artist talk alongside Eva & Franco Mattes, David Howritz and Katrina Sluis


+info
Inaspettatamente (Unexpectedly)
Cloud Seven, Brussels
Group exhibition from Fédéric de Goldschmidt´s Collection
Curated by Fédéric de Goldschmid and Gregory Lang
11 November, 2021 - 30 January, 2022
Artists: Cory Arcangel, Kader Attia, Mirosław Bałka, Walead Beshty, Alighiero Boetti, Carlos Bunga, Julian Charrière, Mary Corse, Hanne Darboven, Berlinde De Bruyckere, Edith Dekyndt, Cristina Garrido, Theaster Gates, Shilpa Gupta, Roni Horn, Anne Imhof, Imi Knoebel, Kapwani Kiwanga, Gabriel Kuri, Alicja Kwade, Richard Long, François Morellet, Jonathan Monk, Roman Opalka, Damián Ortega, Claudio Parmiggiani, Analia Saban,Tomás Saraceno, Katrín Sigurdardottir, Wolfgang Tillmans, Lawrence Weiner, David Wojnarowicz and Héctor Zamora amongst 250 artists.
+info
Proyector 2021 Video Art Festival in Metópolis RTVE
+ link to video
Quitter l´art - Le Quotidien de l ´Art
Magali Lesauvage, Marine Vazzoler (18/11/21)


+ read
El mejor trabajo del mundo
Fundación DIDAC, Santiago de Compostela
Solo exhibition
Curated by Cooperativa Performa
30 October, 2021 - 16 January, 2022
+info
Color. El conicimiento de lo invisible
Espacio Fundación Telefónica, Madrid
Group exhibition
Curated by María Santoyo and Miguel Ángel Delgado
15 June, 2021 - 9 January, 2022
+info
Los trabajos esteriles
Centro de arte La Regenta, Las Palmas de Gran Canaria
Group exhibition
Curated by Fernando Gómez de la Cuesta
24 September - 13 November, 2021
Artists: Verónica R. Frías,Cyro García,Cristina Garrido,Núria Güell,Adrián Martínez,Nauzet Mayor,Eugenio Merino, Rosell Meseguer,PSJM, Avelino Sala, Amparo Sard, Pelayo Varela, Marcelo Viquez
+info
Nuages d´hier et d´aujourd´hui
La Maison des Arts, Brussels
Group exhibition
Curated by Claire Leblanc
17 September - 21 November, 2021
Artists: Elodie Antoine, Stephan Balleux, Lucile Bertrand, David Brognon & Stéphanie Rollin, Jean-Marie Bytebier, Cristina Garrido, Ritsart Gobyn, Joke Hansen, Jacqueline Mesmaeker, Marie Rosen, Liesbeth van Heuwerswijn, Tatiana Wolska, Cindy Wright
+info
Simulacro y Simulación
Galería CURRO, Guadalajara
Group exhibition
8 July - 27 August, 2021
Artists: Alejandro Almanza Pereda,Octavio Abúndez, Mauricio Alejo, Juan Capistrán, Cristina Garrido, Daniela Libertad, Juan Manuel Salas
+info
Agents of Change
LMNO, Brussels
Group exhibition
Curated by Valentina Bianchi and Julie Gaillard
1 July, 2021 - tba
Artists: Marcos Avila Forero, Nicolas Floc'h, Maria Friberg, Cristina Garrido, Pierre Gerard, Rémy Hans, Aïda Kazarian, Adrien Lucca, Denicolai & Provoost, Detanico/Lain, Miguel Sbastida, VOID, Yoann Van Parys, Pep Vidal
+info
Bizkaia Aretoa, Bilbao
Group exhibition
21 May - 10 June, 2021
Artists: María Alcaide, Ignacio García Sánchez, Cristina Garrido, Beatriz Sánchez, SomosNosotros, Oriol Vilanova, Art Worker Rights
+info
Trois Collectioneurs #8.
Edgard F. Grimma, SAFFCA.EU & des oeuvres de notre collection
Été 78, Brussels
Group exhibition
20 March - 1 May, 2021
Artists: Ignasi Aballí, Vincen Beeckman, Denmark, Els Dietvorst, Enric Farrés Duran, Cristina Garrido, Kendell Geers, David Goldblatt, Nan Goldin, Charbel-Joseph H. Boutros, Themba Khumalo, Benon Lutaaya, Gerhard Marx, Kagiso Patrick Mautloa, mountaincutters, Pratchaya Phinthong, Tracey Rose, Stéphanie Saadé, Yann Serandour, Elsa Werth, Ian Whittlesea
+info
Condenados a entenderse #1
Local Disponible, Madrid
Artist residency
Alongside Christian Jankowski
March 2021
+info
Hablar normal y corriente
Caniche Editorial
Podcast
In conversation with Joaquín García
December 2020
Link
Genius Steals
Rodríguez Gallery, Poznan
Group exhibition
Curated by Antonio Grulli
23 October - tba, 2020
Artists: Irene Fenara, Cristina Garrido, Davide Trabucco
+info
Loop Barcelona
Art fair and video art festival
10 - 19 November, 2020
Presentation with The Goma
+info
Center for Artists in Residence Matadero Madrid
Art residency
September - December, 2020
+info
Tomber en Amour - Collection Veys-Verhaevert
La Maison des Art, Brussels, Belgium
Group exhibition
3 September - 01 November, 2020
Artists: Apparatus 22, Laurette Atrux-Tallau, Marcos Avila Forero, Otto Berchem, David Bestué, Pierre Bismuth, Luz Broto, Stefan Brüggemann, Juan Cañizares, Cedric Christie, Edith Dekyndt, Denicolai & Provoost, Angela Detanico / Rafael Lain, Lise Declaux, Aurélien Froment, Cristina Garrido, Bernard Gaube, Pierre Gerard, Gerlach en Koop, Rémy Hans, Heide Hinrichs, Myriam Hornard, Gudny Rosa Ingimarsdottir, Florian Kiniques, Klaas Kloosterboer, Takahiro Kudo, Yves Lecomte, Pierre Liebaert, Myriam Louyest, Marie-France & Patricia Martin, Marianne Mispelaëre, Rokko Miyoshi, Roman Ondak, Benoît Platéus, Sandra Pryczynski, Katarzyna Prezanska, Edurne Rubio, Emmanuel Selva, Adam Vackar, Pep Vidal, Oriol Vilanova, Danh Vo
+info
Greatest Hits
Bombon Projects, Fonteta, Spain
Group exhibition
3 - 29 August, 2020
Artists: Angela de la Cruz, Cristina Garrido, Víctor Jaenada, Enric Farrés Duran, Xavier Ristol, Joana Escoval, Bernat Daviu, Andrew Birk, Jordi Mitjà
+info
Scroll
The Goma, Madrid, Spain
Group exhibition
30 May - 18 July, 2020
Artists: Pierre Descamps, José Díaz, Cristina Garrido, Miguel Marina, Enrique Radigales, Antonio Rovaldi
+info
Arte en femenino. Las 20 mujeres más influyentes en España
Lola Hernández, Yo Dona (El Mundo) (29/02/20)
+info
ARCOMadrid 2020
RTVE 24h (01/03/20)
+info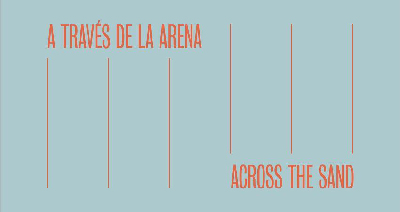 A través de la arena
CentroCentro, Madrid, Spain
Group exhibition
Curated by Laura Vallés Vílchez
21 February - 3 May, 2020
Artists: Victor Burgin, Tino Calabuig, June Crespo, Marlene Dumas, Pepe Espaliú, Jon Mikel Euba, María Luisa Fernández, Cristina Garrido, Victoria Gil, Eva Lootz, Luis López Carrasco, Mitsuo Miura, Rasmus Nilausen, Agustín Parejo School, Pedro G. Romero, Inmaculada Salinas
+info
Un negocio de afecto y aversión ( Inebriate of air am I )
Galería CURRO, Guadalajara, Mexico
Group exhibition
31 January - tba, 2020
Artists: Adam Parker Smith, Alejandro Almanza Pereda,
Andrea Galvani, Claudia Peña Salinas, Cristina Garrido, Francisco Ugarte, Juan Capistrán, Mauricio Alejo, Octavio Abúndez, Richard T. Walker
+info
Tierra Siena, azul de Delft, bermellón de China
The Goma, Madrid, Spain
Solo exhibition
8 February - 28 March
+info
Los siete jóvenes que toman el relevo del arte en España
Bea Espejo, Babelia (El País) - Printed edition (08/02/20)
+info
Cristina Garrido `Hay mucha descarga y pantallazo en mi proceso de trabajo
Luisa Espino, El Cultural (El Mundo) - Printed edition (07/02/20)
+info
Wat voor rol heeft de tentoonstellingsfotograaf eigenlijk?
Marsha Bruinen, Metropolis M (Reflections #25)
+info
Re-Imagining Futures
On Curating Project Space, Zürich, Switzerland
Curated by Henk Slager
Screening exhibition
30 November - 7 December, 2019
Artists: Ursula Biemann, Tyler Coburn, Cristina Garrido, Falke Pisano, Oliver Ressler, Natasha Tontey
+info
Working without the pressure of success
Article for A*Desk Magazine, November 2019
+Read the article (English, Spanish and Catalan versions)
The (Invisible) Art of Documenting Art
Van Abbemuseum, Eindhoven, Netherlands
Book presentation
17 November, 15h, Library
+info
Artissima Fair 2019 - Section Present Future
Section curated by Juan Canela, Émilie Villez and Ilaria Gianni
Solo presentation, LMNO
31 October - 3 November, 2019
+info
Cristina Garrido by Joshua Simon
MOUSSE Magazine, Summer 2019, Issue 68 (pages 50-53)
+info
Parallel Vienna 2019 - Room 2.14
Curated by Péter Bencze
Group exhibition
24 - 29 September, 2019
+info
Doble Filo. Geografías y palabras
Coral Gables Museum, Florida, USA
Group exhibition within the festival HispaFEST
Curated by Féliz Suazo
21 August - 10 September, 2019
Artists: Jorge Macchi, Gabriela mistral, Ignacio Muw, Paula Ábalos, Álvaro Mutis, Carlos Castro, Dulce María Loynaz, Diana Fonseca, Fabrián Peña, César Dávila Andrade, Janneth Méndez, José luis Macas, Cristina Garrido, Julia Montilla, Gabriel Rico, Miguel Rodríguez Sepúlveda, Ramiro Lacayo Deshon, Blanca Varela, Cristina Flores, William Córdoba, Rafael Cárdenas, Iván Candeo, Magüi Trujillo, Miguel Braceli, Víctor Hugo Irazábal
+info
The (Invisible) Art of Documenting Art
La Triennale di Milano, Milano, Italy
Book presentation and conversation amongst Antonio Grulli, Ela Bilakowska, Andrea Rossetti and Cristina Garrido
17 July, 19h
+info
The World Exists To Be Put on a Postcard: Artists' postcards from 1960 to Now
British Museum

, London, UK
Group exhibition
7 February - 4 August, 2019
+info
The World Exists To Be Put on a Postcard: Artists' postcards from 1960 to Now
Exhibition catalogue, British Museum
Publisher: Thames & Hudson
+info

Recorda el foc d´agost
Fabra i Coats centre d´Art Contemporani de Barcelona, Barcelona, Spain
Group exhibition
17 May - 16 June, 2019
Artists: Irene de Andrés, Gerard Ballester, Juan Baraja, Adélaïde Feriot, Cristina Garrido, Abel Jaramillo, Xim Llompart, Antonio Menchen, Pablo del Poz, Eulàlia Rovira & Adrian Schindler, Mario Santamaría, Rosa Vallori
+info

El (invisible) arte de documentar arte
Centro de Fotografía Contemporánea (CFC), Bilbao, Spain
Presentation
12 April, 19.30h
+info
Itinerarios XXV
Centro Botín

, Santander, Spain
Group exhibition of the Fundación Botín Visual Arts Grant 2017-2018
Curated by Benjamin Weil
15 February - 12 May, 2019
Artists: Nora Aurrekoetxea, Fernando García, Cristina Garrido, Fermín Jiménez Landa, Rosell Meseguer, Shirin Sabahi, Blanca Ulloa and Celia-Yunior & Henry Eric Hernández
+info
Un grano de arena en el espacio
Bienal de Cuenca

, Cuenca
Group exhibition
Curated by Beatriz Escudero and Pily Estrada
14 February - 29 March, 2019
Artists: Gabriela Fabre, Cristina Garrido, Pere Llobera, Roberto Noboa, Paúl Rosero Contreras, Pedro Torres, Pep Vidal, Lúa Coderch
+info
The (Invisible) Art of Documenting Art
Book
Publisher: Caniche Editorial
Design: Setanta
+info
Camera Lucida
Das Weisse Haus

, Vienna, Austria
Group exhibition
Curated by Enar de Dios Rodríguez
19 February - 30 March, 2019
Artists: Ignasi Aballí, Helena Almeida, William Anastasi, Claudia Angelmaier, Maria Anwander, Fayçal Baghriche, Jeremy Deller, Alicia Eggert, Claire Fontaine, Ana Frechilla, Cristina Garrido, Irene Grau, Tae-Bum Ha, Kiluanji Kia Henda, David Horvitz, Pierre Huyghe, William E. Jones, Kurt Kren, Ben Long, Lucia Nimcová, Tatzu Nishi, Nils Nova, Mike Parr, Sreshta Rit Premnath, Pilvi Takala, Penelope Umbrico
+info