Clocking In and Out
2015
14 time-stamped digital photographs posted in real time on social media platforms


---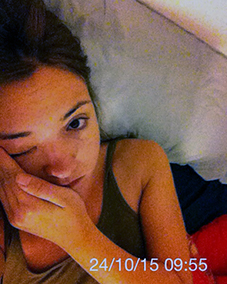 This work intends to raise questions about productive time and cognitive labor in relation to Digital Technologies by monitoring a week in my life using the smartphone and social media.
During this week, from Monday to Sunday, I took two selfies a day; one in the first moment of the day I handled my smartphone and one in the last, and published them in real time in my Instagram, Facebook and Twitter accounts.
On a physical exhibition space the piece is exhibited through digital documentation of the action on a tablet.


---
CREDITS:
14 digital images
Installation view of 24/7. Conectados and Martha Rosler´s Semiotics of the Kitchen (1975), CentroCentro (Madrid, Spain, 2017) © Lukasz Michalak

---
---