Paintings for Wallets 2012-2017
2012 - 2017
Acrylic paint on the front side of 75 Spanish National Lottery tickets, applied before each of their draws took place, carried inside the wallet of 75 people for a period of five years
[Realized with the support of Matadero Madrid]


---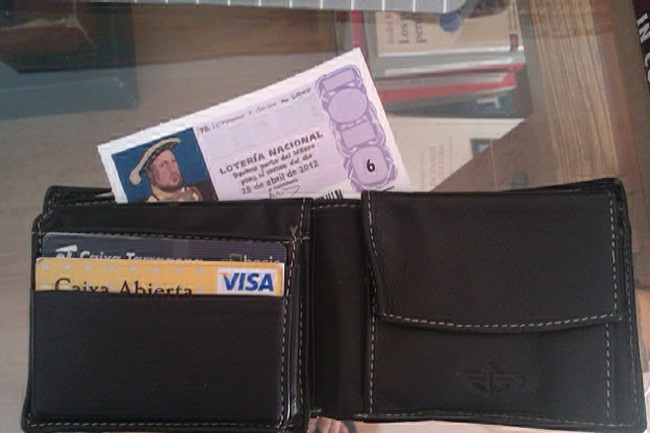 This was my proposal for the group exhibition ICEBERG: The context as starting point (Matadero Madrid, 2012). It was a painting exhibition in which the pieces were traveling worldwide inside the wallets of 75 people for a period of five years. The work seeks to relate two contingent values – subject to a future event – : the lottery ticket and the work of the emerging artist.
On April 2012 I started to acquire weekly Spanish National Lottery tickets. The numbers of the tickets were chosen randomly. On the front side of each ticket, I created a painting that was completed before each draw took place. The layer of paint hid the number and, therefore, the exchange value of the Lottery ticket, invalidating its exchange for money. This process continued until the Extraordinary Christmas draw – coinciding with the end of the exhibition at Matadero Madrid – when a total of seventy-five paintings had been completed.
I gave each of these paintings to a different person and asked them to keep it inside their wallet or purse until 2017.


---
CREDITS:
Documentation provided by some of the bearers of the paintings
---